Apparently my voice is one that causes people to stop and turn their heads. At least that's my experience just walking through a store with my family!
My voice commands attention.  I get heard, loud and clear. That is one key ingredient to live announcing. Other parts of my job require learned expertise.  Experience has taught me to stay cool under pressure, don't get rattled!  Often times, I'm asked to think fast and talk even faster. I've made live announcements, to literally millions of people, in some unbelievably chaotic environments.
It's tough to beat the thrill of announcing to a sold out concert crowd just as the stars take the stage. One of my early experiences was at Red Rocks Amphitheatre in September 1992. The Moody Blues played with the Colorado Symphony Orchestra and my heart almost burst out of my chest as I brought them on stage! I have other great memories with Nickelback, the Rolling Stones, Bare Naked Ladies, Train, Yonder Mountain String Band, and Aerosmith.
Nothing could have prepared me for thrill of the Colorado Avalanche Stanley Cup Celebration outside Denver's City and County building in June 2001.  From the stage I introduced Joe Sakic to the quarter-million fans gathered.  I watched Super Joe emerge from fog and walk directly towards me carrying the Stanley Cup raised over his head! That moment just about registered on the Richter Scale! I've had the honor to announce the official moment of enshrinement into Pro Football's Hall of Fame for legends Emmitt Smith,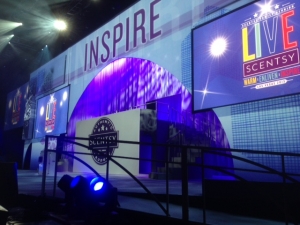 Derrick Thomas, Jerry Rice, and Deion Sanders, plus exactly 56 others. I've enjoyed being an emcee at celebrity golf tournaments, charity auctions, company award ceremonies and team-building seminars.
Let me help your next live event be heard, loud and clear!   Contact me here
"It is absolutely true that events can simply get lost from the start in a large, cavernous settings like a stadium, arena, or mega-theatre. So, producers add flash, color and spectacle to grab you, fill the space, and take command over an audience. My trick is adding a voice like Alan Roach's that says "Wait, I had better pay attention. Something very important is happening."
I've worked with Alan professionally for over 20 years and not one time has any of my clients been anything but blown away by his talent. His voice certainly speaks for itself, but it's his professionalism that makes him a perfect fit for any commercial, promotional or corporate work, as well as major sports and entertainment gigs. That combination puts him in a very, very small group of people with this level of voice talent.

He is, simply put – one of the best in the business – period.

"I have had the pleasure of working with some of the best talent at the world's biggest sports events. Alan Roach is by far the best voice I have ever worked with, Roach's professionalism and talent take every event to the next level."