Working as the announcer at live sports events for over 25 years has provided me a front row seat to some of the most spectacular sports moments in recent history.
It's hard for me to pick a favorite. Joe Sakic turning and handing The Stanley Cup to Ray Bourque. David Tyree's catch using mostly his helmet. NFL Film's Steve Sabol called that "the greatest play the Super Bowl has ever produced". I announced T.J. Oshie all six times he skated to the shootout circle in Team USA's thrilling victory over Team Russia on the Russian's home ice in Sochi last year. Pretty cool, huh?
The first Colorado Rockies batter I introduced at the first Major League Baseball game I announced was Eric Young. Moments later, history, with his leadoff home run in front of 80, 227 at Mile High Stadium in 1993. Two years later, I called Dante Bichette's name just before his electrifying 14th inning home run that put the unforgettable finishing touch on Coors Field's Opening Day. Have a favorite Super Bowl Half Time Show? The Rolling Stones? Bruce Springsteen? Madonna? I got to announce all three! And for the record, Prince was my favorite halftime at Super Bowl XLI.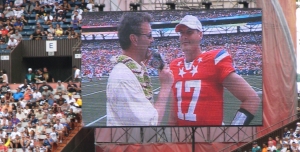 I've had opportunity to interview Jim Brown, Jerry Rice, John Madden, Emmitt Smith, and Lawrence Taylor. At the 2010 HOF ceremony, I interviewed Joe Montana and Steve Young at the same time. I was told that was the first time it ever happened. I look forward to every new year, every new season, and every new memory I'm fortunate enough to experience.
"I have had the pleasure of working with some of the best talent at the world's biggest sports events. Alan Roach is by far the best voice I have ever worked with, Roach's professionalism and talent take every event to the next level."
"Alan Roach is a true professional… from live PA announcing to voice over work. he is a pleasure to work with. I have worked with many announcers over the years in this profession and Roach is by far the best. The Avalanche is very lucky to have Alan Roach as their full-time PA announcer, and the organization is grateful for the work he has done for us over the years."
"I am fortunate to have worked with 2 of the best Public Address Announcers in ALL of sports. The legendary Bob Sheppard in New York from 1999 to 2007, and now with Alan Roach for the past 3 years. Roach has that empowering, capture your attention voice and delivery. His experience and professionalism is A-1. Roach has ice water running through his veins in the most pressurized situations."